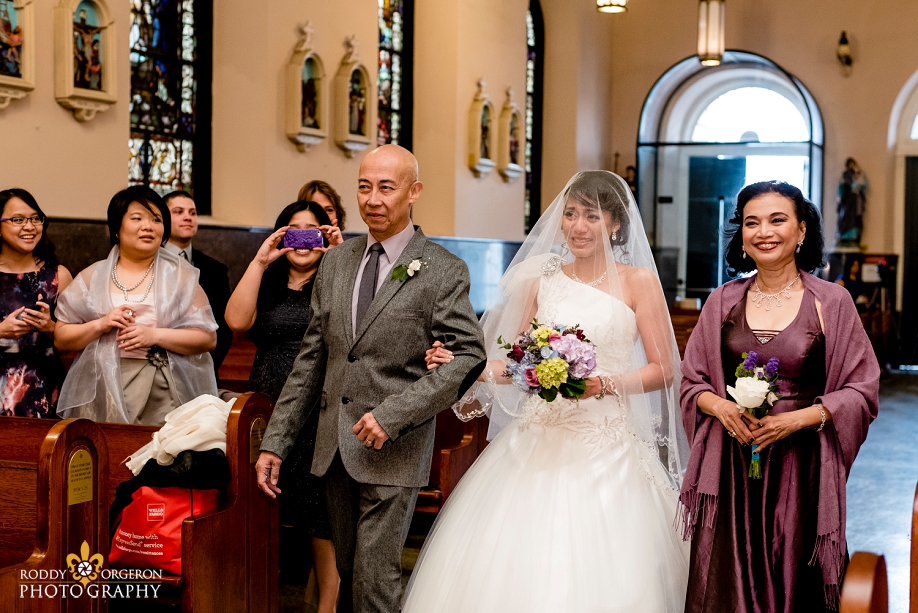 Ganda and Rex were such an adorable and fun couple to work with. They had no problem letting go and truly enjoying their special day. Their wedding was an intimate, classic New Orleans wedding celebration.
The Ceremony : Our Lady of Guadalupe Church in the French Quarter
It was held inside the impressive Our Lady of Guadalupe Church wedding located on Rampart Street here in New Orleans. The stunning daylight pouring in through the stained glass windows painted everyone inside in a beautiful color. Seeing the look on Rex's face while he watched Ganda come down the aisle truly melted my heart. Those are the kind of moments that really indicate how strong their affection is.
After the ceremony, the wedding marched through the streets of the French Quarter. As I said before, Ganda and Rex really are a fun couple who wanted to have a good time. They were doing jumps for the camera and really celebrating their marriage with extreme enthusiasm. In an atmosphere of Mardi Gras beads and confetti, we navigated through the wonder and spontaneity that is the French Quarter.
The Reception : The Court of Two Sisters in the French Quarter
The reception took place at The Court of Two Sisters, a classy New Orleans restaurant. This was the perfect night to have dinner in such a beautiful courtyard, with all the trees and latticework twinkling with glowing lights.
Cheers to Ganda and Rex! I hope you have a glorious lifetime with each other.