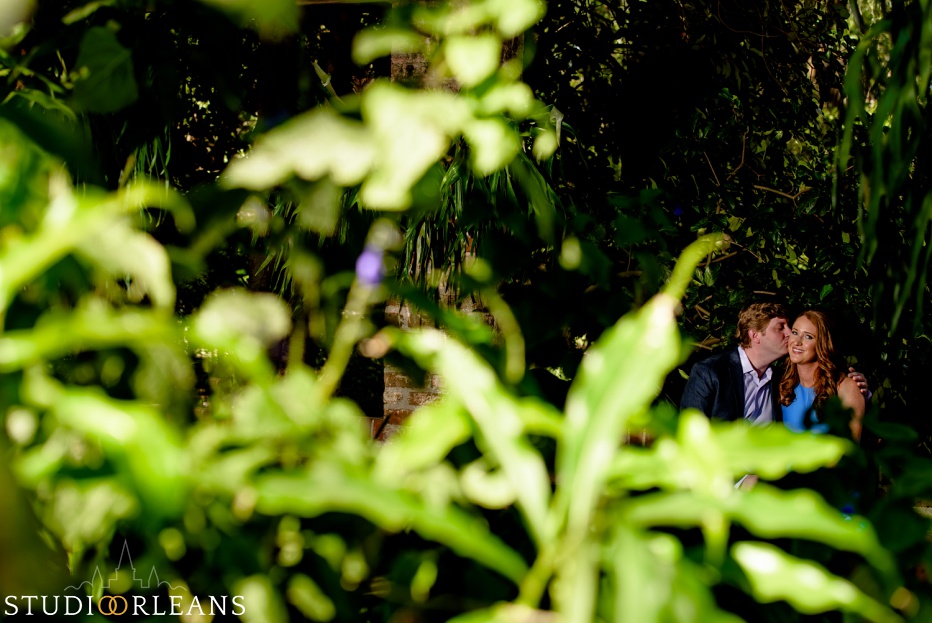 Engagement Session in City Park
Hilary and Dan's City Park engagement session allowed them to commune with each other and nature while taking in a bit of New Orleans history.  As one of the nation's oldest urban parks, City Park boasts over 1,300 acres of picturesque landscape that make the perfect backdrop for memorable photos.  Hilary, who works for a private investigation firm, probably didn't have to do much investigating to know that Dan, who works in public relations, was the man for her.  And Dan certainly advertised his feelings for her when he recently presented her with an engagement ring.
To celebrate their engagement, they strolled beneath the ancient oaks in City Park as the sun shone through the curtains of Spanish moss hanging from the giant, sloping branches to shine down on them on this special day.  The pathways they walked were lined with large groupings of iron plants, stands of magnolia trees, and other natural flora and fauna featured throughout the park.  They paused at the Owen/Butler Memorial Fountain, titled the Unfortunate Boot, which was created in 1910.  The original sculpture was replaced with a water nymph in 1929, and then in 1994, the fountain was restored and rededicated.  They enjoyed a few private moments in front of Popp Fountain, added to the park in 1937 and designed by artist Enrique Alferez.  The fountain is over 60 feet wide and has a water spray of 30 feet, which comes out of a cast bronze sculpture of leaping dolphins.  The fountain is surrounded by 26 Corinthian columns draped in wisteria and has brilliant-colored crepe myrtles lining its walkways.  What a romantic setting for an engagement photo.
And in anticipation of sculpting the perfect marriage, Hilary and Dan will be celebrating their upcoming wedding in City Park's famous Sydney and Walda Besthoff Sculpture Garden, which sits on five acres and is host to more than 60 sculptures by master sculptors and contemporary artists from around the world.
Their reception will follow at the park's New Orleans Museum of Art, the city's oldest fine arts museum.  The museum is home to a permanent collection of over 40,000 works, including pieces by such famous names as Monet, Picasso, Degas, Pollock, and O'Keefe.  The couple and their guests will be able to dance the night away in some famous company before beginning their spectacular life together.