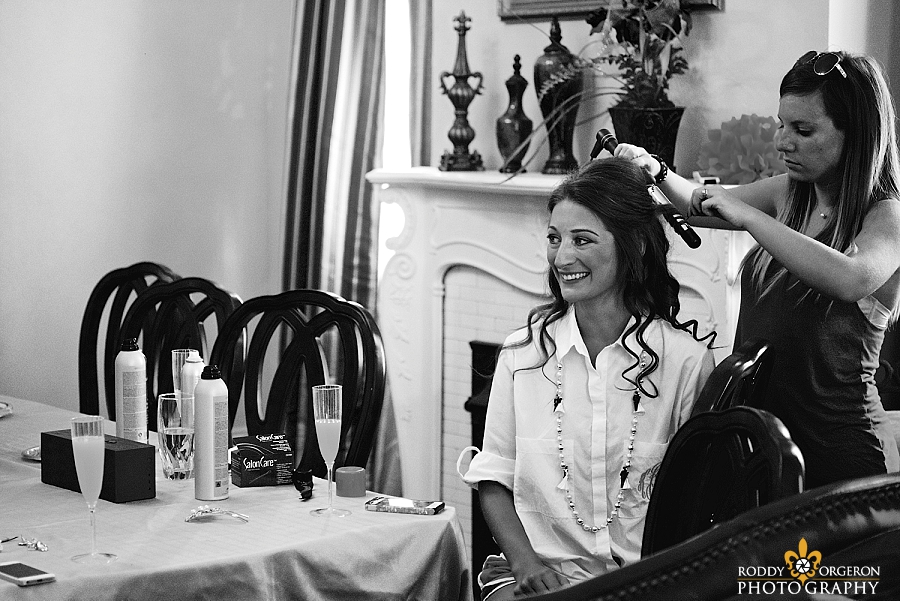 Kristin and Warren's wedding was not missing a thing. From getting ready before the ceremony through to the end of the reception, this wedding had it all. Some of the highlights I'll never forget are the pre-ceremony cigars that Warren and his entourage enjoyed, the girls riding in luxury in a stretch SUV, and the mini Crown Royal bottles that the groomsmen had handy to cheers Warren on his big day. The ceremony took place at the Peristyle in City Park, a beautiful choice of venue. The Peristyle is not only classy, but also a historical landmark in New Orleans, having been maintained in City Park since 1907. Golden light surrounded Kristin and Warren as they said their vows within the embrace of the Greek Columns.
After the ceremony, guests awaited the newly weds at Republic in downtown New Orleans. Republic has a hip feel to it, with all the edginess of a music venue, to the classiness and tastefulness of a chandelier clad ballroom. It was a perfect choice for this raucous bunch of people. Complete with everything from live music, toasts, singing and some insane dance moves, the reception was absolutely a hit.
The wedding party, along with the most adventurous of guests went through downtown and into the French Quarter in a second line accompanied by the Kinfolk Brass Band. This was not a meek second line. These guys were having a good old rowdy time celebrating.
Cheers to you, Kristin and Warren! You guys rock!