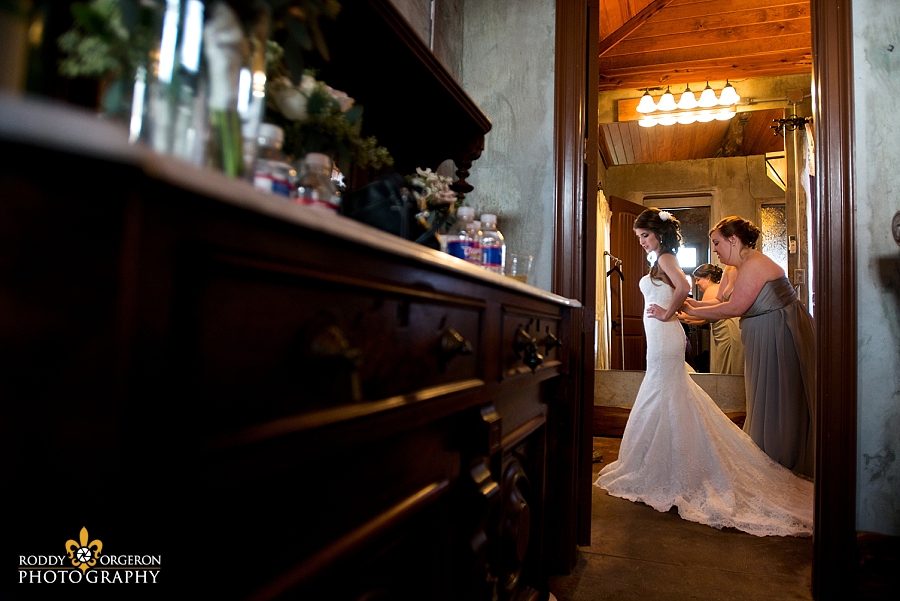 Bridal Prep: Old Dobbin Station
Kristina was all smiles as she was helped into her stunning lace-covered, one-shoulder gown and lace-trimmed veil by her maid of honor.  The bridesmaids' gowns were varying shades of grey, pink, and lavender – the colors of a summer sky after the rain – and featured a draped gather on one side.  The groom and the groomsmen were very stylish in their lavender ties.
If you want your wedding day to have the feel of downhome Texas, but still retain all of the elegance your grand day deserves, then an Olde Dobbin Station wedding is what you should have.  As you stroll down their rock-lined pathways, you'll feel as if you've been transported to an old western town, which was the perfect setting for Kristina and Shane's wedding day.
Ceremony: Old Dobbin Station wedding
Olde Dobbin Station, built in the early 1900s, had been an oil pumping station before becoming a community center.  The present owners restored the rustic buildings to create special spaces for special occasions.  With its cathedral ceilings, massive chandeliers, paddle fans, and highly polished floor, the main building, called McCoy Station, is the perfect setting for a Texas-style wedding and reception.
The bridesmaids formed a colorful wall of loveliness to hide the bride at the doorway until it was time for her grand entrance.  And when that time came, Kristina's father was there to give his daughter his arm.  Friends and family looked on as Kristina walked down the aisle to take her place at Shane's side for the ceremony.
Reception: Old Dobbin Station wedding
After the ceremony, the bridal party made its way to the reception where, through the spectacular arched doorway, Kristina and Shane greeted their guests for the first time as husband and wife.  Now it was time for big Texas fun.
Everyone looked on as the bride and groom shared a special dance, but then it was jackets off and get down and boogey time where some guests showed off their superior dance moves.  Even Shane got in on the show, when his family and friends formed a human trampoline.  Texans sure know how to throw a party or even a party host!
Kristina and Shane found time to steal away for a few private moments under the night sky before they shared a Hollywood-style kiss under an archway of sparklers as they made their exit.  Sparks really were flying that night.