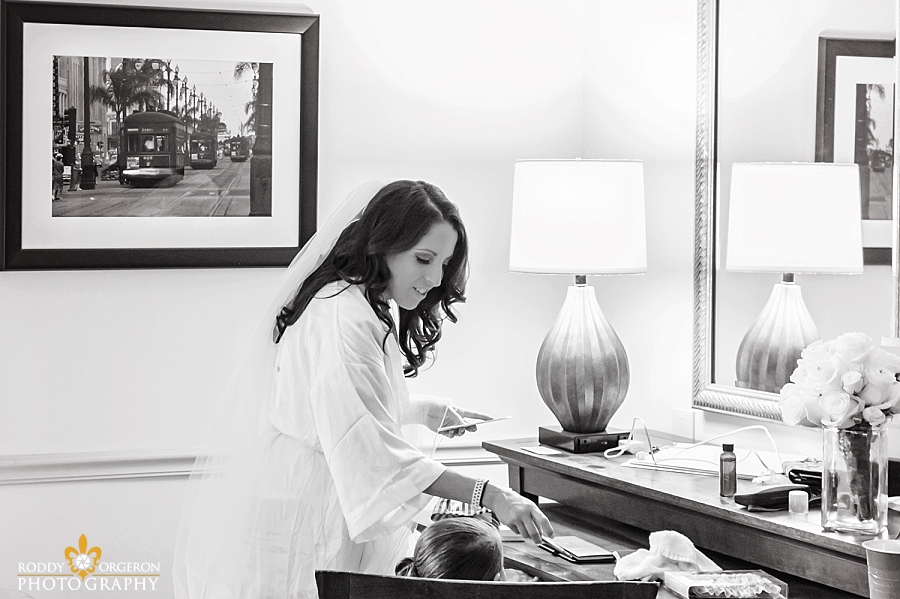 Melanie and Chris had an extravagant and gorgeous New Orleans wedding. The ceremony took place at the St Louis Cathedral, which is a spectacular place for a wedding ceremony. The church is the oldest Catholic cathedral to be in continual use in the country and overlooks one of New Orleans' most notable landmarks, Jackson Square. The wedding party had a bit of fun arriving at the church on the wedding day, interacting with the characters found in the heart of the French Quarter. On the way to the ceremony I got to ride inside the limo with the guys, who had quite the time. Inside the St Louis Cathedral we all marveled at the grandeur of the embellished walls and enormous arched ceiling. The church is breathtakingly beautiful.
After the ceremony we all headed to the Riverview Room for the reception. The Riverview room is up high on the fourth floor of the Jackson Brewery Millhouse, and displays gorgeous views of the Mississippi river and the French Quarter through its floor to ceiling windows. It is a perfectly classy location for a reception, with mahogany walls and décor indicative of the early New Orleans style. After a perfect evening of dancing, food and drinks, Melanie and Chris departed through an aisle of sparklers and left in a horse drawn chariot. What a beautiful night.
Congratulations again, Melanie and Chris!