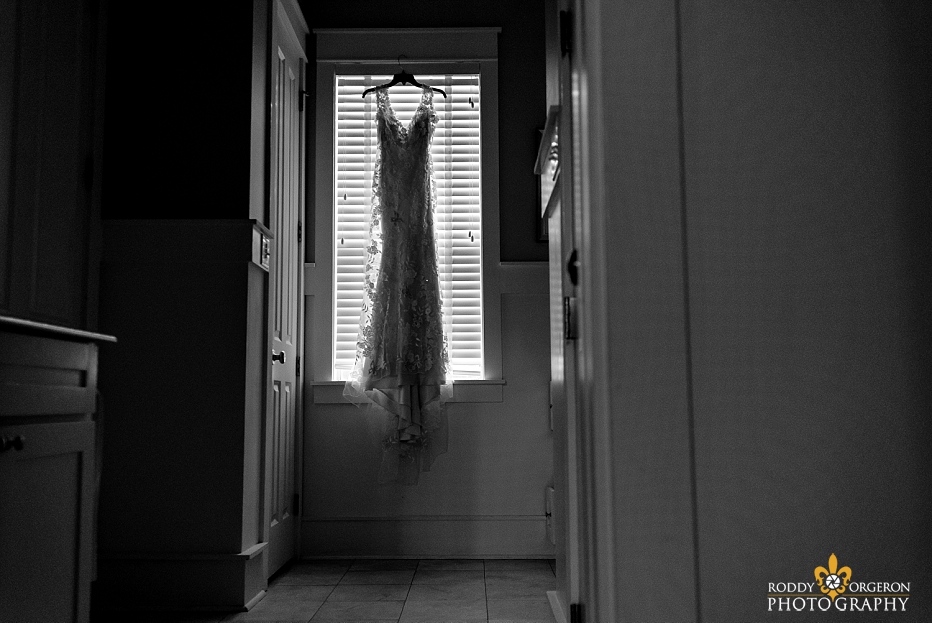 Kortney and Adam have a love that feels tangible. The energy before their wedding was electric, like an invisible charge was moving through the whole wedding party in anticipation. Kortney had quite the crew helping her get ready in the comfort of her mothers home, including an adorable little dog. To make getting wedding­‐prepped even more perfect, the bridesmaids had silk bathrobes to match their light pink dresses. The guys had just as much of a great time getting ready, playing cards and snacking, all in preparation for the evening to come.
The Ceremony : Ursuline Academy in New Orleans
The ceremony took place in the church on the beautiful campus of Ursuline Academy. It was a breathtaking location, with its enormous arches and columns lining the interior. After the limo escorted her to the front steps, Kortney entered the church, stunning everyone in the room, but especially Adam. When he saw her coming down the aisle he exuded happiness, confidence, and most of all affection.
The Reception : Audubon Tea Room wedding venue
The reception kicked off right after at the Audubon Tea Room. The venue was of upmost elegance, embellished with gorgeous hardwood floors, double doors and silken drapes. The reception was a hit, with hysterical laughter constantly all around. Here's to you, Kortney and Adam! I have no doubt in my mind that the two of you just began the best chapter of your lives.