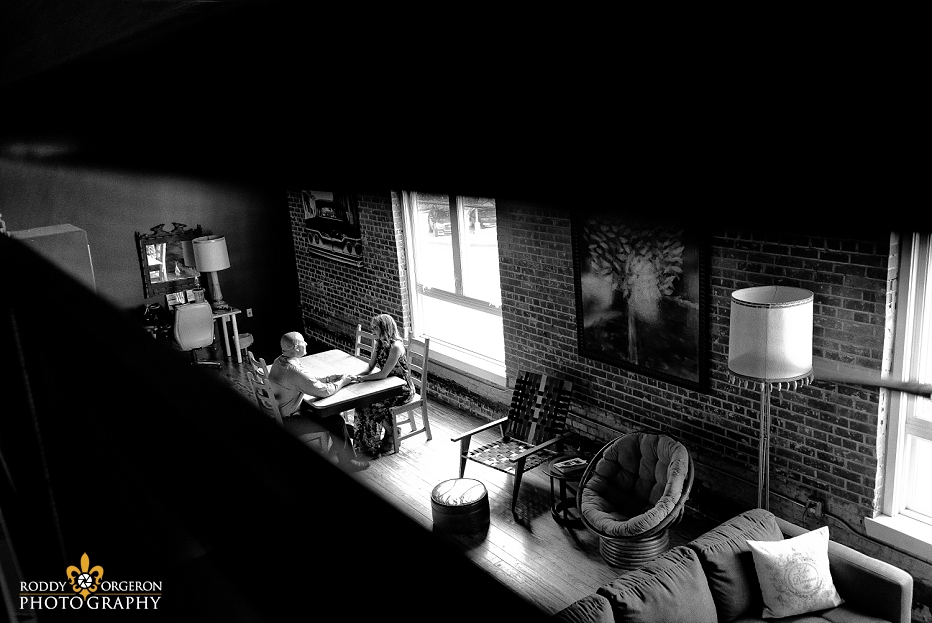 Kathleen and Bret are a quintessential match for one another. He's a Louisiana State Trooper and she's a Homicide Detective. I photographed an Engagement Session for them and really got to see their personalities shine. One of the most interesting things about this couple is their engagement story. It is always so wonderful to get to hear about the intricate and sometimes arduous lengths that a person will go to in order to craft the perfect proposal. In this case, Bret really went out of his way to give Kathleen a proposal to top all proposals
The Proposal
Bret had Kathleen's Mother ask her to go up in a small private plane to get photos of their family's Florida property. The original plan was that Kathleen would go up in the plane with her Father, but on the day of the plane-ride, her Father had to back out because he was "sick." Bret, who is terrified of small planes like this one, agreed to go with Kathleen at her Mother's request. As they were up in the plane nearing the property, the pilot asked Kathleen if she recognized anything, at which time he redirected the plane down and to the left. When she looked down, she saw the words "MARRY ME" next to a huge heart written in gigantic letters on her parent's front lawn. The best part of this whole story is that Kathleen was completely taken by surprise. Waiting in suspense, Bret said, "so will you?!?!?!" and of course she said yes, and then cried the whole rest of the way back down to land. Apparently it took 80 white tablecloths to spell out the words so large on the lawn. Their whole family greeted them with a celebration when they got back.
The Lofts: Lafayette Engagement Session
For this Engagement Session we got some classy shots indoors that simply communicate the romance between these two. From there we went to the great outdoors for inspiration and used the beautiful, unique landscape of Louisiana as a backdrop. Amongst towering oak trees with moss and vines, alongside the swampy marsh, these images have a "Louisiana" feel that is impossible to get anywhere else. In these portraits we also had a little fun representing Kathleen and Bret's affiliation with the law. They posed holding their guns amidst a red and blue twilit landscape.
Their wedding will be held in  November 2016 at the Southern Oaks Plantation.
Congrats on your engagement Kathleen and Bret! I'll see you at the wedding!