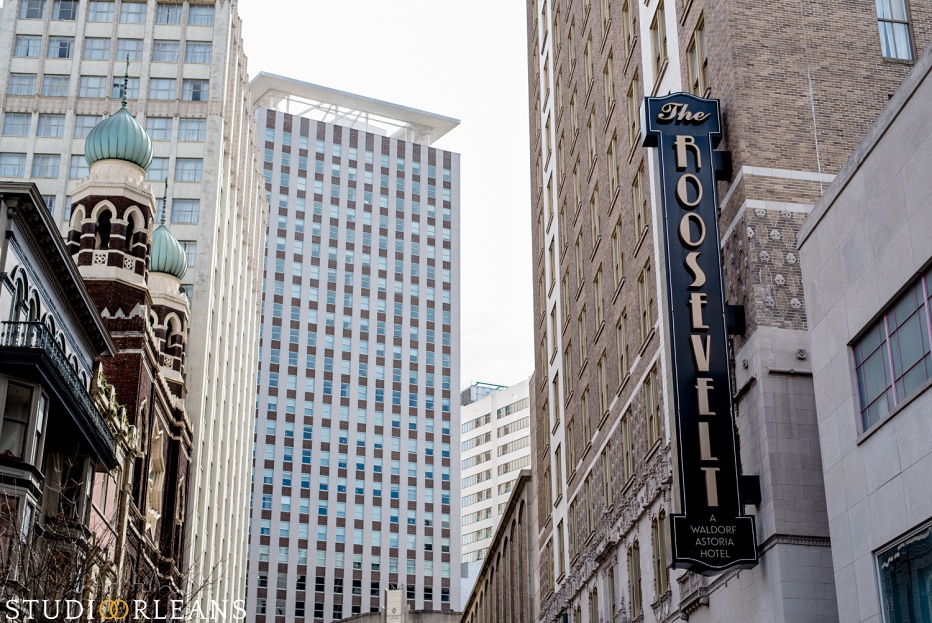 Checkout this Indian wedding at the Roosevelt hotel!  If your little girl dreams included having your prince ride up on a white horse, then you'll probably want to plan an enchanting event like Dinushi and Deepak's Indian wedding. This elaborate, colorful, and carnival-like affair was held at the Roosevelt Hotel in New Orleans, where people take their carnival very seriously.
The Ceremony: The Roosevelt Hotel Ceremony
The traditional Indian wedding ceremony is celebrated over days, with the bride and groom each sharing in special rituals to prepare them for their wedding day. On the day of the wedding, Deepak, dressed in an ornate jacket and trousers with matching turban in antique white, gold, and burgundy, which are traditional Indian wedding colors, rode to the wedding venue on a bejeweled white horse. This baraat or groom's procession, with friends and family singing and dancing, and with music played by a professional dhol (large bass drum) player, brought the groom to greet his future bride's family. Family is very important in the Indian marriage tradition and is as much about bringing two families together as it is about the joining of two people.
The ceremony was presided over by Dr. AAW Amarasinghe. The bride wore an antique white, embroidered and heavily beaded, two-piece wedding ensemble with matching floor-length veil imported from New Delhi designers Tarun Tahiliani Couture who specialize in Indian attire. She was escorted down the aisle, strewn with burgundy rose petals, by her father. Dinushi wore the traditional maangtika forehead ornament and a stunning gold necklace and bracelet set. The bride's hair and makeup were done by the talented Gaby Jimenez, owner of Fairytales and Brides.
The marriage took place under a mandap, which is a canopied altar. This mandap was designed and decorated by wedding planner Anila Keswani of Nirvana Weddings whose 30 years of experience was evident in this stunning setting. The altar was draped in jewels and cascades of white flowers. The breathtaking floral arrangements of mostly white flowers with hints of burgundy were created by Diem Vu of Bella Blooms Floral. The traditional wedding colors of gold and burgundy were subtly displayed with each of the arrangements, except for the bride's bouquet, which was a mix of shades of burgundy with just a few white flowers as accents.
During the ceremony, Deepak placed a mangalsutra (a necklace symbolizing luck, love, and friendship) around Dinushi's neck. The bride and groom also exchanged floral garlands as a symbol of their acceptance of one another. The couple then performed the lighting of the sacred fire, the circling of the sacred fire, and the seven sacred steps, making a vow to each other with each step. It is a beautiful and meaningful part of this amazing ceremony.
The Reception: The Roosevelt Hotel Wedding
The bride and groom and their guests entered the reception where dinner was served in what could only be described as a magical setting created by The Roosevelt's creative staff. Steeped in its own famous history, The Roosevelt was the perfect place for this colorful and over-the-top affair. The Roosevelt's chefs created a stunning wedding cake with three globe-shaped tiers with cascading edible flowers. There was also a more traditional chocolate groom's cake.
After dinner, the party got into full swing with music provided by one of New Orleans' premier DJs, Shawn Mirpuri of Ooh La La Music Company. Entertainment was provided by artistic directors, choreographers, and renowned belly dancers the Belly Twins, who have danced their way into the hearts of Prime Ministers and celebrities at sold-out performances around the world. Then it was time for the bride and groom to get their party on by performing a number of their own. Later the bride changed into a stunning burgundy gown with billowing skirt and jeweled top to share the floor with her husband. They danced the night away with family and friends until they were able to step away for a few private moments beneath The Roosevelt's grand canopy to cap off this grand event.
This Indian wedding at the Roosevelt hotel was so amazing! We would like to thank all of the vendors that made this possible
Wedding Prep/Ceremony/Reception: The Roosevelt Hotel Wedding
Hair/Makeup: Fairytales and Brides – Gaby Jimenez
DJ: Ooh La La Music Company
Bridal Gown: Tarun Tahiliani Couture New Delhi, India
Grooms Sherwani: Sahil
Entertainment: BellyTwins International
Floral/Decor: Bella Blooms
Videographer: Studio Vieux Carre
Wedding Planner: Nirvana Weddings – Anila Keswani