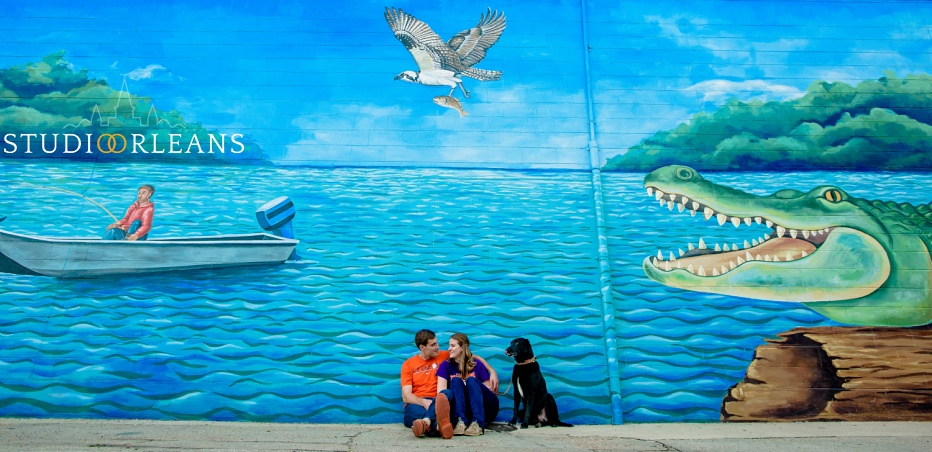 Engagement Session in New Orleans
When the chemistry is right, you know it.  And since chemistry class at Clemson University is where Amanda and Brian became lab partners, it seemed destiny that they would eventually become partners in life.  The couple has known each other for ten years, but took their sweet time becoming a couple as each thought the other was clueless about their developing feelings.  They were both wrong about that, but so right for each other.
After graduating from Clemson, Brian stayed on for another year, while Amanda ended up in Tennessee.  They played cat and mouse for a while, stopping in to see each other while in town visiting "friends."  When Brian finally faced moving again in order to begin his residency, he figured it was time to make his commitment to Amanda known.  But as the poet Robert Burns once said, "The best laid schemes 'o mice an' men."  Or in Brian's case, the best laid plans of dog and man.
For Brian's engagement surprise, he enlisted the aid of their trusty dog, Parker.  While Amanda readied herself for their evening out (having been left notes by Brian of what to do and wear), Brian gave Parker two long-stemmed roses to carry to her.  Unfortunately, Parker, a big black lab, was afraid of Yuengling, the cat, and as luck would have it, Yuengling managed to scare Parker enough so that by the time he reached Amanda's side, he had bitten through the stems of the roses, and they now drooped by his head.  Somehow, though, amid a shaking dog, hissing cat, and a less-than-happy Brian, a ring was produced and Amanda said, "yes."
Brian's residency brought him to New Orleans, where he and Amanda both really wanted to be, so while she teaches chemistry at Patrick Taylor Academy, he's in his second year of orthopedic surgery residency at Ochsner.
When not eating wings and drinking beer while watching football, Amanda and Brian like to cook, go camping, and go to the many festivals in and around New Orleans.
To celebrate their engagement and upcoming wedding, they took some photos around town.  Parker got in on the action when they posed in front of Max Bernardi's mural, which was done for the Audubon Zoo Louisiana Swamp Exhibit.  Later that evening, they shared some private moments in the park where moonlight shown through the moss-covered oaks and reflected off of the still water of the Hyams Fountain.
This month they will be married at the gorgeous Southern Oaks Plantation where true New Orleans charm abounds.