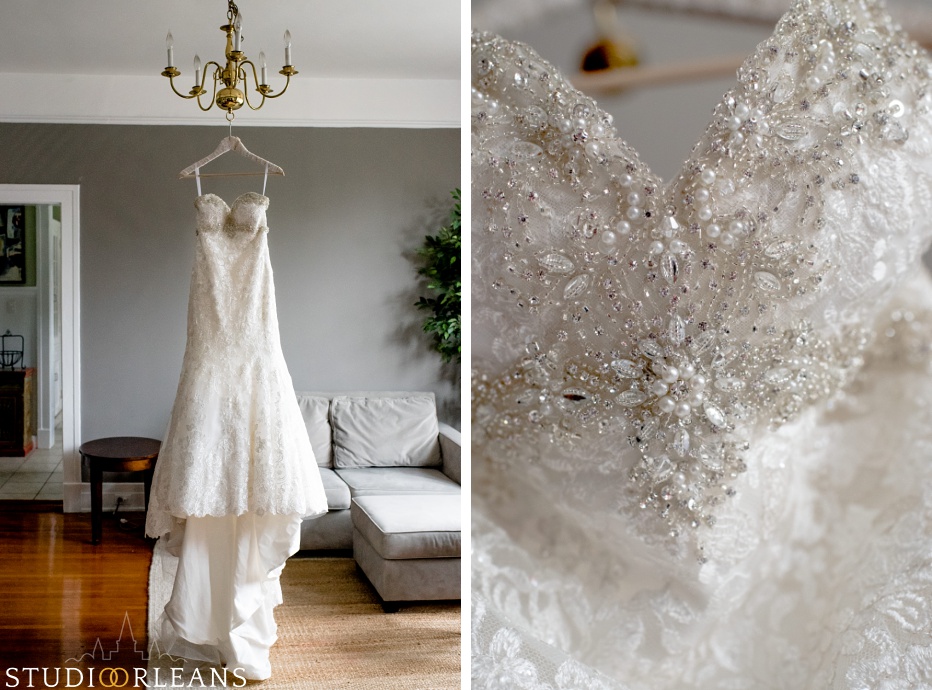 When most people say they support our military, they mean they donate money or volunteer, but not Khiry. He took his commitment all the way to "till death do us part," when he married the love of his life and U. S. Army soldier, Aleecia, in a Cedar Grove Plantation wedding.
Khiry, who works at a hospital while pursuing his Master's degree in Health Administration at LSU, met Aleecia, who attends Northwestern State University online for her Master's degree in Homeland Security, at a college basketball game. They both are avid basketball fans, college and NBA, and said the thing they love to do together most is eat. Living in Louisiana certainly gives them more than their fair share of great food venues to choose from.
Their Cedar Grove Plantation wedding was planned and brought to fruition under the guidance of owner Jill Mercer, who, together with her husband, Joey, purchased the historical plantation in 2006, then remodeled it after Jill's childhood church, St. Joseph's. The plantation was built in 1790 on the outskirts of New Orleans and was one of the largest producers of sugar cane and rice. It also had quite a colorful past before becoming the magnificent event center it is today. Cedar Grove is reknowned for its food (with recipes courtesy of Jill's grandmother), impeccable service, and commitment to excellence.
The Ceremony: Cedar Grove Plantation Wedding
Aleecia wore a beautiful strapless gown from Minervas Bridal with a heavily beaded bodice and chapel-length train. Her hair and makeup were done by the talented Gaby Jimenez, owner of Fairytales and Brides. The bridesmaids wore matching long pink gowns. All of the ladies' pink and white bouquets and the gentlemen's boutonnieres were created by Leaf and Petal of New Orleans. The groom wore a royal blue double-breasted suit while the groomsmen wore light gray suits. The men wore pink bowties to match with the bridesmaids' dresses. The groom was also pretty-in-pink, because he was wearing some dazzling, bright pink socks in keeping to the pink-themed wedding.
Candlelit lanterns lined the way for the bride to walk and meet her groom to take their vows in a ceremony conducted by Reverend Colley of Pensacola, FL.
The Reception: Cedar Grove Plantation Wedding
When it was time for the cake, there was a beautiful three-tiered traditional wedding cake, designed by local legends Haydel's Bakery, that sported the gold topper, "Best Day Ever."
With the sun set and the day's events winding down, the newlyweds shared a few private moments under the starry night sky at the plantation's gazebo. What a beautiful and romantic way to celebrate your best day ever.
The Vendors
Ceremony/Reception: Cedar Grove Plantation Wedding
Florist: Leaf + Petal I NOLA
Wedding dress: Minervas Bridal
Hair/Makeup: Fairytales and Brides
Minister: Reverend Colley
Photographer: Jay Theriot